Her Royal Highness Princess Astrid of Belgium and His Royal Highness Prince Lorenz of Belgium arrived in Kathmandu on 19 January 2020 on a weeklong visit to Nepal. Princess Astrid is the Honorary Chair of Damien Foundation, a Belgian NGO, working in TB and Leprosy in 16 countries including Nepal.
Right Honorable Moti Lal Dugad, Nepal's Minister of State for Industry, Commerce and Supplies, welcomed the royal family at the Tribhuvan International Airport (TIA). Similarly, Ambassador of Nepal in Brussels Lok Bahadur Thapa, Belgian Ambassador François Delhaye and Honorary Consul Ang Tshering Sherpa along with Dr. Sushil Koirala, Country Representative for Damien Foundation in Nepal welcomed Princess Astrid and delegates in TIA.
Royal Visit After 20 Year

This was the first time after 1998 that a Belgian Royal has paid a visit to Nepal. Earlier, King Albert II had paid a private visit to Nepal during the eighties and King Filip, the then crown prince, paid and unofficial visit in 1998. Damien Foundation Nepal had all set for the weeklong visit to several parts of Nepal for the Royal family and members of the delegation. The visit was coordinated by the Embassy of Belgium in New Delhi.
During her stay, Princess Astrid of Belgium was scheduled to pay a courtesy visit to Bidya Devi Bhandari, President of Nepal. Moreover, she had separate meetings with the Ishwar Pokhrel, Deputy Prime Minister and Minister for Defense, Pradeep Kumar Gyawali, Minister for Foreign Affairs, and Bhanu Bhakta Dhakal, Minister for Health and Population including others.
Nepal's Ministry of Foreign Affairs earlier had issued a press release about the visit of Princess Astrid of Belgium. "This visit will contribute to further strengthening the bilateral relations and expanding the areas of cooperation between Nepal and Belgium", reads the press statement on 16 January 2020.
On the evening of January 19, Princess Astrid met with Pradeep Kumar Gyawali, the Foreign Minister of Nepal, who graciously hosted a welcome dinner where Bhanu Bhakta Dhakal, the Minister of Health and Population, and Yogesh Bhattarai, the Minister of Culture, Tourism and Civil Aviation, were also present.
Inauguration of TB Referral Centre at Kailali

Princess Astrid of Belgium and Bhanu Bhakta Dhakal, Nepal's Minister for Health and Population jointly inaugurated the Laxmi Narayan Tuberculosis Referral and Research Centre based in Godavari Municipality 6, Shreepur in Kailali on 20 January. The Center was established with the financial and technical support of Damien Foundation Nepal in coordination with Manav Samsadhan Bikash Pratisthan, a local non-governmental organisation. Dr. Guna Raj Awasthi, Director at the Health Directorate in Sudurpaschim Province welcomed guests in the program. Bhanu Bhakta Dhakal, Minister for Health and Population expressed his belief that the newly established hospital will be instrumental in curing infectious diseases in the region. The minister termed the high-level royal visit of Belgium as a matter of pride.
Addressing the inaugural ceremony, François Delhaye, Belgian Ambassador for Nepal, stated that such humanitarian works will further strengthen bilateral relations between Belgium and Nepal. He thanked the warm welcome in the Far Western Region of Nepal. The locals greeted Princess Astrid and the team with cultural dance and music from Dhangadhi Airport to the program venue.
Dr. Sushil Koirala, Country Representative of Damien Foundation Nepal congratulated the local communities for the establishment of the hospital dedicated for Tuberculosis. Moreover, he honored the contributions made by local donors by donating their lands for the construction of hospital buildings.
Krishna Subedi, Minister for Social Development of Sudur Paschim Province, Padam Raj Joshi, secretary of Human Resource Development Center, Hari Singh Saud, Mayor of Godabari municipality and including others shared their happiness over the establishment of the hospital to cure tuberculosis. Established with 35 beds (inpatient and residential/hostel), the hospital will extend its services to the patient with high risk.
Bhaktapur Visit

Princess Astrid of Belgium visited Bhaktapur, the home of traditional art and architecture, historical monuments and craftwork, on 21 January. The Princess and the members of the royal family including others were welcomed by Yogesh Bhattarai, the Minister for Culture, Tourism and Civil Aviation and Sunil Prajapati, mayor of Bhaktapur municipality.
Princess Astrid also visited Taleju Temple, Pachpanna Jyale Durbar (royal palace with 55 windows), Siddhilaxmi Temple, Batsala Temple, Five-storied Temple, and Bhairavnath Temple, among others.
The Princess observed typical Newari cultural dance presented by the local communities in her honor. The Princess was accompanied by her husband Prince Lorenz including government officials in Nepal.
Bhaktapur, known as Nepal's Cultural Gem, is one of the major attractions for tourists because of the Durbar Square, one of the UNESCO World Heritage Sites. Princess Astrid also visited the 36-meter-high Stupa of Boudha, another UNESCO World Heritage Site which is one of the most imposing landmarks in Kathmandu. Princess Astrid's visit was significant because the year 2020 is special for Nepal as it has declared Visit Nepal 2020, a year dedicated to the promotion of its tourism.
World Leprosy Day Seminar

Princess Astrid attended a seminar organized jointly by the Damien Foundation and the Belgian Embassy to mark "World Leprosy Day" on 21 January in Kathmandu. The day is marked internationally on the last Sunday of January each year to increase the public awareness for Leprosy.
Dr. Jos Vandelaer of the World Health Organization shared the importance of Leprosy to the World Health Organization globally and for Nepal. Similarly, Dr. Jean-Pierre Schenkelaars provided some more information about Damien Foundation and their work around the world. Likewise, Ilse Errygers, the Head of Communications & Fundraising of the Damien Foundation headquarters in Belgium informed about the way Damien Foundation is financed and conduct campaign activities in Belgium to boost awareness of the existing needs in the 16 project countries where Damien Foundation is present through dedicated Communication & Fundraising programs all year round.
Professor Madhusudhan Subedi, a sociologist and Professor at the Patan Academy of Health Sciences and Tribhuvan University in Nepal, gave a presentation on the importance of reducing stigma and discrimination, the theme of this year's World Leprosy Day. Likewise, Dr. Sushil Koirala, the Country Representative of Damien Foundation Nepal explained how his organization seeks to tackle the issues of stigma and discrimination in their programs.
In the last part of the seminar two patients, first affected by tuberculosis and second affected by leprosy and one health care worker presented the testimonial about their situation. Finally, François Delhaye, Ambassador of the Kingdom of Belgium to Nepalexpressed a vote of thanks to all the participants of the seminar. Princess Astrid listened to the experiences of individuals affected by leprosy and tuberculosis facing stigma and discrimination in various walks of their life.
Meetings with President and DPM

Princess Astrid of Belgium met with the President of Nepal Bidya Devi Bhandari on 21 January. The meeting was held at Shitalniwas, President's Office in Kathmandu.
President Bhandari expected that the royal visit will further strengthen the bilateral relation between the two countries. Moreover, the President informed that Nepal has progressed tremendously in women's empowerment. On the occasion Princess Astrid informed that Damien Foundation, the NGO which she leads as the honorary chairperson, has been actively involved in eradicating leprosy and tuberculosis in Nepal.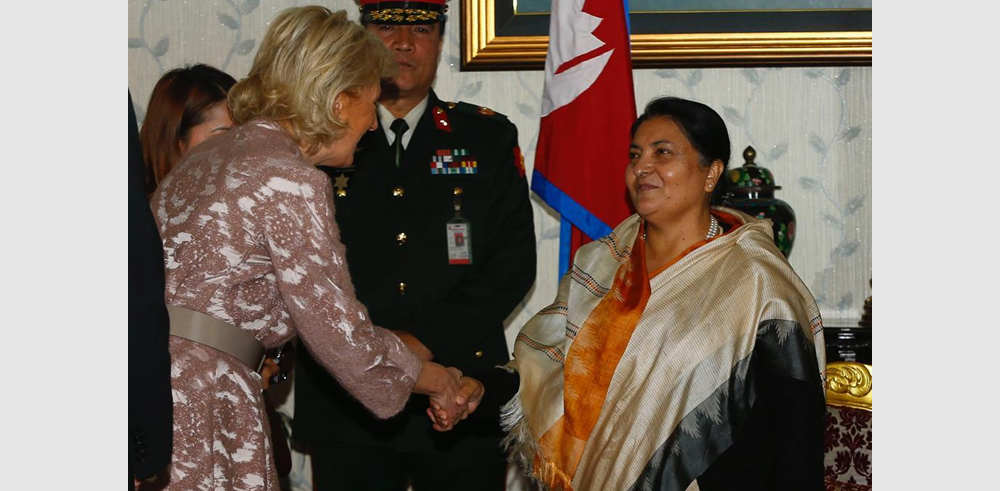 Princess Astrid of Belgium held a meeting with Deputy Prime Minister and Defense Minister Ishwor Pokrel on 21 January. DPM Pokharel expressed happiness over excellent ties between Nepal and Belgium and stressed the need to further expand economic and political interests between the two countries.
In response, Princess Astrid said that Belgium is happy to extend support to Nepal in various fields including eliminating leprosy. "It is great that Nepal has been gradually achieving political stability in recent years," The Republica Daily quotes Princess Astrid of Belgium.
Furthermore, Princess Astrid is Special Envoy of the Ottawa Anti-Personnel Mine Ban Convention. She advocated for Nepal's accession to the Ottawa Convention during her visit to Nepal.
Princess Astrid meets leprosy and tuberculosis affected

Princess Astrid of Belgium met the patients affected by leprosy and tuberculosis on 22 January in Madhyabindu District Hospital at Nawalparasi. Dhruba Narayan Chaudari, 23, was happy to meet Princess Astrid. "I found leprosy in my hand when I was just six years old", he said, "Now I am regularly taking medicines." Princess Astrid and Chief Minister Prithivi Subba Gurung of Gandaki province, laid the foundation stone for the construction of a center for leprosy and tuberculosis at the hospital. Dr. Sunil Raj Gautam, medical superintendent of hospital said the proposed center will be instrumental to cure patients of leprosy and tuberculosis.
Prithvi Subba Gurung, Chief Minister of Gandaki Province stated that the health facilities will be increased at the hospital. Dr. Sushil Koirala, country representative of Damien Foundation Nepal said the hospital is a priority and adequate funds should be available. "We want to complete the construction as soon as possible", he said.
Earlier, Princess Astrid of Belgium was given a grand welcome in Bharatpur. Renu Dahal, the mayor and Parbati Shah, deputy-mayor of Bharatpur received Princess Astrid at the airport offering her garlands. The locals of metropolis greeted the Belgian princess and her team right outside the airport amidst the playing of the panchaibaja.
After two days personal visit to Chitwan National Park and Meghauli, the Princess Astrid returned to Kathmandu, had a Mountain Flight to view Himalayas and Mount Everest and left for Belgium on 25 January 2020.
List of Belgian Delegates

Delegation from Belgian Side: 1. Her Royal Highness Princess Astrid of Belgium
2. His Royal Highness Prince Lorenz of Belgium
3. Ambassador H.E. Mr. Jan Matthysen, Advisor to Princess Astrid
4. Mrs. Agnes Aerts, (Mrs. Matthysen)
5. Dr. Jean-Pierre Schenkelaars Baron (Rt. Hon. The Lord Schenkelaars), Administrator Board of Directors, Damien Foundation
6. Mrs. Marie Defourny, Lady Schenkelaars
7. H.E. Mr. Francois Delhaye, Ambassador of the Kingdom of Belgium
8. Mr. Ang Tshering Sherpa, Honorary Consul General of Belgium to Nepal
9. Mr. Alain Baetens, First Secretary, Embassy of the Kingdom of Belgium
10. Mrs. Ilse Errygers, Head of Communications & Fundraising, Damien Foundation, Belgium
11. Mr. Jean–Yves Berlemont, Assistant to Princess Astrid
12. Mr. Maarten Weynants, Journalist BELGA, Belgium
Special Thanks to:

Dr. Jean Pierre Schenkelaars, Board of Directors, Damien Foundation
Mrs. Ilse Errygers, Head of Communications & Fundraising, Damien Foundation
Mr. Luc Comhaire, Project Manager, Damien Foundation
Mr. Alain Baetens, First Secretary, Embassy of Belgium in India
Mr. Aang Tsering Sherpa, Honorary Consulate of Belgium to Nepal
Mr. Laxman Gautam, Advisor to Minister of Tourism, Culture and Aviation
Mr. Sudan Gyawnali, Press Advisor to Minister of Foreign Affairs
Officials of Ministry of Foreign Affairs
Mayor of Bhaktapur, Mayor of Bharatpur
Dr. Guna Raj Awasthi, Director, Health Directorate, Sudur Paschim Province
Dr. Bhabana Shrestha, GENETUP, NATA
Laxmi Raj Pant, Chairman of Manab Samsadhan Bikash Pratisthan and Prathisthan Executive Committee Members
Chairman, Medical Superintendent and staffs of Madhyabindu District Hospital
Mr. Hem Raj Khadka, Heatlth Education Officer, Ministry of Social Development, Sudur Paschim Province
Mr. Maarten Weynants, Journalist BELGA
Mr. Shalikram Rizal, Operations Manager, Damien Foundation Nepal
Dr. Pramod Raj Bhattarai, DR TB Medical Officer, Damien Foundation Nepal
Mr. Kapil Anjan Neupane, Photographer and Audio
Mr. Ravi Raj Baral, Media coordination
Mrs. Sama Thapa, Master of Ceremony
Mr. Ramesh Malla, Photographer
Mr. Krishna Adhikari, Videographer
Ms. Richa Sharma, Admin and Finance Officer, Damien Foundation Nepal
Mr. Ganesh Singh Shah, Driver, Damien Foundation
Mrs. Laxmi Koirala, Office Support Staff, Damien Foundation
DF Field staffs at Madhyabindu Hospital and Kailali, NGO partner staffs and Executive Committee (Partnership for New Life)
Some more glimpses of the visit:
Kapil Neupane Aka Kapil Anjan
Photographer and Audio Nepal